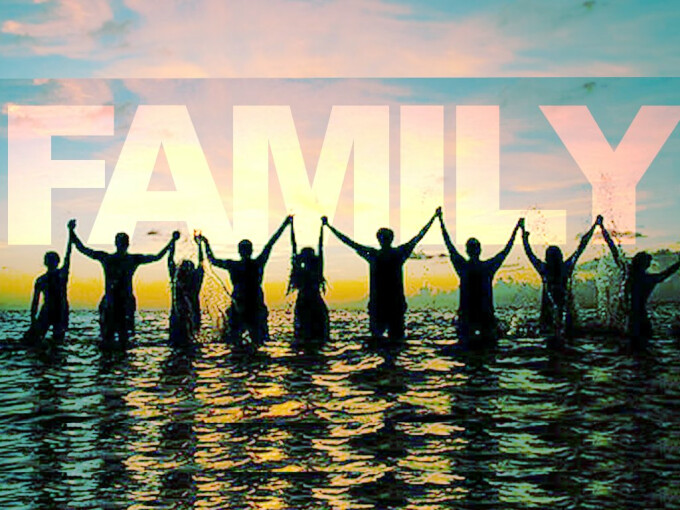 This past Sunday we talked about the necessity of unity amongst our body from Philippians 2. Our unity as a body of believers is a ray of gospel light into a dark world. Unity amongst Christians is all the more vital today, as we look out at a society characterized by disunity at every turn. We see political animosity and racial tensions in society at large. At a more personal level, all of us deal with strained relationships with family, friends, coworkers, or neighbors. The church is to be distinct from the world at large in how we treat one another. For the apostle Paul in Philippians 2, our corporate unity is to be characterized by humble obedience, humble hearts, and joyful service.
In this week's blog post, let's briefly approach the topic of our Christian unity from a different angle. Have you ever heard of Christians referring to one another as "brothers and sisters?" Does it sound old-fashioned? Does it sound like a weird Christian-y thing to equate your fellow church members with your own family? This filial language is not just some relic of a bygone era; it reflects just how unified Christians are called to be! The body of Christ is a family. We are all blood-related! Through the blood of Jesus Christ, shed on the cross for the forgiveness of your sin, you were adopted into the family of God.
"For through him we both have access in one Spirit to the Father. So then you are no longer strangers and aliens, but you are fellow citizens with the saints and members of the household of God…" (Ephesians 2:18-19)
For all who are led by the Spirit of God are sons of God. For you did not receive the spirit of slavery to fall back into fear, but you have received the Spirit of adoption as sons, by whom we cry, "Abba! Father!" The Spirit himself bears witness with our spirit that we are children of God, and if children, then heirs—heirs of God and fellow heirs with Christ, provided we suffer with him in order that we may also be glorified with him. (Romans 8:14-17)
We were all once far off, enslaved to sin, with our hearts darkened. Through Christ, we have been reconciled to the Father. Not only that but he's put His Spirit within us! It's like our Heavenly Father has put a tiny bit of his DNA inside of us, that we can know Him better and day by day begin to look more like Him in our thoughts, attitudes, and actions.
In the above passages, Paul makes this clear. Those who have placed their faith in Christ are now children of God. And not only that, but we are also "fellow heirs with Christ" so that Jesus is our oldest brother! How does that work? What are the implications of this? These are great questions that would warrant a future series of blog posts. But for this post, here is the vital truth: in a spiritual, but very real sense, we are brothers and sisters, united by our adoption into God's family.
How might it change your perspective on the church if you saw the person in the pew next to you as your brother in Christ? When you hear of a fellow member that is suffering, do you feel as though your very brother or sister is suffering? Are you invested in the life of your fellow church members in a similar way to how you're invested in the life of your family? Do you prioritize gathering with the church like you prioritize your family gatherings? The command of Hebrews 13 is clear and concise.
"Let brotherly love continue" (Hebrews 13:1)
So when we come together every Sunday morning, it's a small family reunion. It's a local manifestation of the global family of believers. We are united in Christ with believers all over the world. Our worship services may look noticeably different, as we sing to the Lord in hundreds of different languages. But our worship services are noticeably similar, as we, the children of God hear from our Father as the Scriptures are proclaimed among us. Next Sunday morning, I encourage you to reflect on this as you step foot into the lobby. In Christ, you are adopted into the family of God as a son or daughter. That means that the Christians you encounter inside the walls of Woodhaven Bible Church are your family. Let us love one another in accordance with that. Let us be united as the collective children of God. And know that across the country and across the globe, you have family members that you will never meet on this side of eternity. God is bringing people in from every nation, every tribe, every tongue. And we know from Philippians 2 that on that glorious day, at the name of Jesus, every knee will bow and every tongue will confess that our eldest brother, Jesus Christ, is Lord. Amen.